OTP Group (Hungary): short information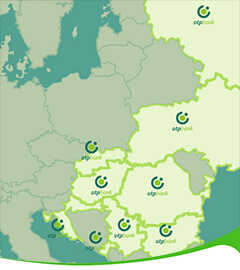 OTP Group — is one of the largest financial institutions in Central and Eastern Europe, which has subsidiary banks in Hungary, Croatia, Serbia, Slovakia, Ukraine, Bulgaria, Montenegro, and since the end of 2006 – in Russia.
International activity of OTP Group covers several major business-lines in financial, insurance, investment and banking sector – from assets management and leasing, to factoring and pension funds management.
In 1990, the National Savings Bank became a public company with a share capital of HUF 23 billion. Its name was changed to the National Savings and Commercial Bank. Subsequently, non-banking activities were separated from the bank, along with their supporting organisational units. The state lottery was reorganised into a separate state-owned company and OTP Real Estate was established as a subsidiary of the bank.
OTP Bank's privatisation began in 1995. As a result of 3 public offers along with the introduction of the bank's shares into the Budapest Stock Exchange the state's ownership in the bank decreased to a single voting preference (golden) share. Currently the bank is characterized by dispersed ownership of mostly private and institutional (financial) investors.
After the realisation of its own privatisation process, OTP Bank started its international expansion targeting countries in CEE region, which offer great economic growth potentials similar to that of its domestic market.
OTP Bank has completed several successful acquisitions in the past years, becoming a key player in the region. Besides Hungary, OTP Group currently operates in 8 countries of the region via its subsidiaries:
in Bulgaria (DSK Bank), in Croatia (OTP banka Hrvatska), in Romania (OTP Bank Romania), in Serbia (OTP banka Srbija), in Slovakia (OTP Banka Slovensko), in Ukraine (CJSC OTP Bank), in Montenegro (Crnogorska komercijalna banka) and in Russia (AO OTP Bank).
In 2015 OTP Group announced the start up of a new international online retail project, Touch Bank, launched in Russia.
OTP Group provides high quality financial solutions to meet the needs more than 16 million customers through almost 1500 branches, agent networks and the state-of-the-art electronic channels.